Benistant Celebrates Maiden Grand Prix Win as Geerts Reclaims Championship Lead with Second
Monster Energy Yamaha Factory MX2's Thibault Benistant was exceptional at the MXGP of Germany, round 11 of the FIM Motocross World Championship. The 19-year-old Frenchman celebrated his first-ever Grand Prix win after following a third-place finish in race one up with a dominant start-to-finish victory in race two. The '198' was joined on the podium by his teammate Jago Geerts, who reclaimed the MX2 championship lead with two consistent second-place finishes for second overall. As a result, Yamaha has regained the lead in manufacturers' standings.
The German Grand Prix got off to a flying start for Monster Energy Yamaha Factory MX2's duo of Thibault Benistant and Jago Geerts. Both riders topped the timesheets in the Free and Timed Practice sessions and qualified in the second and third positions, respectively.
Quick off the gate in Race 1, Benistant chased his French compatriot Tom Vialle around turn one as Geerts held a tight line to emerge on the cusp of the top-five.
As Benistant challenged the lead on the opening lap, Geerts made some brave passes on Jan Pancar and Simon Laengenfelder to slot into third.
After taking third, Geerts stalked his teammate for half of the race before launching up the inside of the '198' to wrench away second position. From there, the Belgian pushed the edge as he set fast lap after fast lap to reel in the leader, Vialle.
Going into the final lap, less than 1-second split the duo of MX2 title protagonists. Geerts pushed Vialle to the flag but was narrowly denied victory at the Finish Line. Benistant did not feel overly comfortable and could not challenge the front-runners but was still heads and shoulders better than the rest of the pack.
Race 2 was dominated by Benistant. The young Yamaha ace passed Vialle on turn three and powered his YZ250FM to a phenomenal race win. At the same time, Geerts had the championship in mind. After watching his closest rival (Vialle) withdraw from the race through a technical problem, the Belgian decided against taking any unnecessary risk and opted to settle for second.
After a decent performance at the 'Talkessel' circuit, at which he celebrated his 10th podium finish of the season, Geerts reclaimed the MX2 Championship lead, and will now head to the next round of the championship with an 8-point buffer over Vialle. At the same time, Benistant enjoyed his third bottle of podium champagne this season and has jumped to seventh in the standings after missing the first three rounds through injury.
The next round of the series will take place in Samota-Sumbawa, Indonesia, on June 25th and 26th.
Full results from the MX2 Grand Prix of Germany, click here.
Thibault Benistant
MX2 Grand Prix of Germany Winner, 45-points
7th MX2 Championship Standings, 266-points
"My first GP win! I am really happy about this. I was riding really good all weekend, even though the first moto I was a little bit tight. I tried to stay with the guys, but they were going really fast, and I was not feeling really comfortable, so I finished P.3. I started second again in the second moto and tried to push directly. I managed this and took the victory. I really want to thank all the people in the background who we don't see, but a lot of people are working with me and believe in me, so thanks to all of them."
Jago Geerts
2nd MX2 Grand Prix of Germany, 44-points
MX2 Championship Leader, 460-points
"I am really happy with two second places today. I was not feeling great on the track all weekend, so the first heat came as a bit of a surprise that I had the speed to win. In the second heat, I didn't have the best feeling on the track and struggled a little bit, but still managed to take the championship lead again, so overall, it was a positive weekend."
Mikkel Haarup returns to the podium in Germany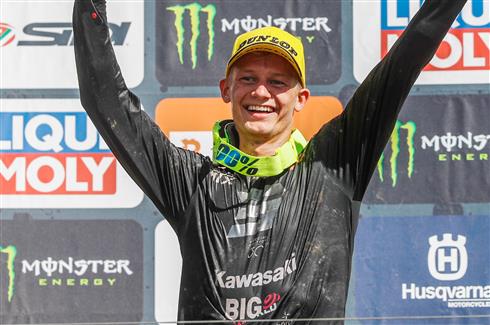 Big Van World MTX Kawasaki's Mikkel Haarup claimed his fourth podium of the season with third place in the German round of the FIM World MX2 Motocross Championship at Teutschenthal.
To the delight of a large group of fans who had travelled down from Denmark to cheer on their hero Mikkel quickly converted his initial seventh place into fifth with a stunning second-lap outside-pass on one of his immediate rivals in the series points-chase and four laps later he took over fourth with a decisive inside-move. With a clear track ahead of him he was immediately able to drop his lap-times yet further but the front-three had already made good their escape so he had to be satisfied with fourth at the finish. Again making decisive moves to take over fifth after just a few turns the Dane temporarily surrendered one position on the following lap as track development was significantly different to race one but within ten minutes he was making moves again, culminating his advance with a smart inside-pass for third before half-distance. Once more the leaders were out-of-sight but the Kawasaki rider never gave up, reducing the time-deficit lap-by-lap; his efforts came up less than five seconds short, but 4-3 motos were more than sufficient to claim third on the podium and, although still fifth in the standings, he has closed significantly the rider who is currently third on points.

Mikkel Haarup: "That was so good for my confidence to come back onto the podium. I didn't actually realise until the last lap that I was up there but I felt good all weekend and the entire team worked well; a big shout-out for them. I love this track and I was having fun out there; it has high speed, a good flow and I could charge through the pack both motos. And there were so many Danish fans out there; they were the best, making so much noise. I could hear them every lap; they were just great support so it was a real bonus to be able to give them a podium. Now I'm ready for more in Indonesia."

Pushed wide at turn one F&H Kawasaki Racing Team's Kevin Horgmo held eighth place for more than half of the first moto in the wake of the leaderboard train which formed on the predominantly one-line track. As the track developed more lines became available and the Norwegian built two clever passes on consecutive laps to finish sixth. The riders off the inside gates again pushed him wide at turn one but within ten minutes he was moving forward from his initial seventh to secure fifth; a relentless chase after the rider directly ahead of him in the points chase came up just one second short, but fourth overall on the day has confirmed fourth in the championship standings and sees him close to within twenty-seven points of third in the series.

Kevin Horgmo: "Yesterday I made a silly mistake in Qualifying and hit the gate, but I felt good on the bike as I came from last to eighth and the set-up was good all weekend. I got pushed wide at turn one from that gate position today but I came from mid-pack both motos to sixth and fifth for fourth overall; I felt my riding was better than the result but that mistake at the gate yesterday cost me. Now to Indonesia; it will be a new experience for me and for sure it will be even hotter than here."

Two incidents with other riders in the second moto cost Quentin Marc Prugnières his realistic shot at the podium for 9MM Energy Drink BUD Racing Kawasaki in the sixth round of the FIM European EMX250 Championship. After finishing fourth in the first race on Saturday afternoon the French teenager found himself way down in eighteenth place on the opening lap of Sunday morning's second moto; battling throughout the twenty-five-minute-plus-two-lap race he had broken into the top-ten ten minutes from the end and kept charging to take the chequered flag eighth. This secured sixth place overall, narrowly missing the podium, and he is now eighth, just twenty-one points from third, in an even-tighter battle in the series standings.

Quentin Marc Prugnières: "The second race was more difficult as my start was not so good; I recovered some positions in the first corner but before the second turn another rider pushed me outside the track and I lost several positions! When I was coming back through the pack a rider crashed in front of me and I hit his bike; it was frustrating to again lose time. My speed was good but I can't be happy with this race as everyone – me, the team, my family – expects more and I will now work in the sand to prepare for the next round at Lommel. »

BUD teammate Eddie Jay Wade continued his learning curve in the EMX250 series. A top-ten start in race two was an excellent base to equal his best result of the season with sixth place at the finish, just seventeen seconds down on the winner. Ninth overall over the weekend the English youngster has leapt to fourteenth in the series points standings.

Eddie Jay Wade: "The times were really close in Qualifying so I was happy with eighth and I was very good off the start in race one but the rider in front of me went through a puddle so I had to throw off my goggles. In the second moto I worked my way from tenth to sixth; I got a bit tight towards the end but we're learning all the time and we'll keep working."
VIALLE RUES POOR LUCK AT GERMAN GRAND PRIXMXGP 2022 Round 11 of 19, Talkessel, Germany
Red Bull KTM Factory Racing's Tom Vialle used his factory KTM 250 SX-f to seal another moto victory in the 2022 FIM MX2 Motocross World Championship at Talkessel, Teutschenthal for the Grand Prix of Germany but classified 9th overall after a second moto DNF.
Vialle just misses out on a ninth consecutive podium trophy at round eleven of the series in Germany.
The Frenchman started from Pole Position for the third time in 2022 and rode to a first moto win in warm, hard and dusty conditions at Teutschenthal.
A problem in the second race means the 21-year-old is now 2nd in the world championship standings by just 8 points.
Madrid, Ernee and now Teutschenthal: MXGP ploughed onwards with the third Grand Prix in as many weeks and the old-school, narrow and undulating Talkessel layout was the usual host of the German stop in the series. The tough, rutty, bumpy and curiously dusty course required strong line choices and a good feeling for optimum grip.
After riding to P1 on Saturday for Pole Position, Vialle, who has led laps in every single Grand Prix bar one this season, sliced to the front from the first circulations of the opening moto and set the pace, deterring the attention of principal rival Jago Geerts by a slender margin at the checkered flag. In the second race he grabbed a second holeshot of the day and was set for another rostrum appearance until a minor technical hitch ended his race at the midway stage.
Vialle took hold of the series red plate three races ago in Spain but events in Germany means he stares at a 8-point gap to Geerts.
DIGA Procross KTM racer Liam Everts was not able to compete on Sunday after a crash in the qualification heat on Saturday left the Belgian rookies with an injured finger.
After journeys to Spain, France and Germany, MXGP closes three weeks of action and now enjoys a small respite before the long trip to Samota-Sumbawa for the Grand Prix of Indonesia on June 26th and the second non-European date on the 2022 schedule.
Tom Vialle, 1st and DNF for 9th overall in MX2: "I really like the track in Germany and had a good connection right away that allowed me to win the qualifying race and then have the holeshot and control the first moto. I holeshotted the second race – my starts were really strong this weekend – and [Thibault] Benistant passed me on the first lap and I was quite settled in 2nd. Unfortunately, we had a small issue and could not finish. It cost us a few points but we're doing really well and I know we'll be able to answer and fight back very soon."
Results MX2 Germany 2022
1. Thibault Benistant (FRA), Yamaha, 3-1
2. Jago Geerts (BEL), Yamaha, 2-2
3. Mikkel Haarup (DEN), Kawasaki 4-3
4. Kevin Horgmo (NOR), Kawasaki, 6-5
5. Simon Laegenfelder (GER), GASGAS, 9-4
9. Tom Vialle (FRA), Red Bull KTM Factory Racing, 1-DNF
Standings MX2 2022 after 11 of 19 rounds
1. Jago Geerts, 460 points
2. Tom Vialle, Red Bull KTM Factory Racing, 452 points
3. Simon Laengenfelder, 353
4. Kevin Horgmo, 326
5. Mikkel Haarup, 319
MXGP Race 2 MXGP 2022 Round 11
Sunday, 12th June 2022
MXGP of Germany, Teutschenthal
German MXGP win for Team HRC's Tim Gajser
It was Germany's turn to host the MXGP World Motocross Championship this weekend as round 11 of the 2022 series visited the popular but challenging Talkessel Circuit, close to the eastern German town of Teutschenthal.
Famous for its fast and flowing layout, Teutschenthal features a hard-packed base and constant elevation changes which clearly suited Team HRC's four-time World Champion Tim Gajser as he holeshot his CRF450R and took an early lead in race one. Based on Tim's domination of Saturday's qualifying race Gajser was the favourite to win today and soon into race one it was clear that the friendly Slovenian had the measure of both the circuit and his competitors, going on to win by almost six seconds.
Team Honda 114 Motorsport's Rubén Fernández also worked hard in race one, rounding lap one in seventh place but pushed throughout the race to eventually finish in fifth.
Gajser's teammate Mitch Evans also battled hard in race one, maintaining a strong flow throughout the moto to eventually finish in eighth, battling home-rider Team JM Honda Racing's Henry Jacobi who finished in ninth.
Shiptocycle Honda SR Motoblouz's Stephen Rubini had a challenging ride in MX2 race one, entering lap one in ninth place and battling hard to maintaining his race position whilst searching for opportunities to progress. His hard work paid off on lap 14 when he managed to make a pass and finish the race in eighth.
As the gate dropped for MXGP race two, all eyes were on Gajser and as the riders hit turn one he emerged in fourth place and pushed hard into second as they charged passed the timing beacon. Although Gajser seemed content to sit-back and not take risks he began a charge with around eight minutes to go. With a lowering sun and cut-up track to contend with Gajser eventually conceded to the safer approach and settled for second place which gave him the overall win. 'Tiga' extended his lead in the MXGP World Championship today to 101 points with eight rounds to go.
Fernández, Evans and Jacobi all had better starts in race two with Fernández entering lap one in fourth, Evans in sixth and Jacobi in eighth. Fernández soon lost one position and remained in fifth for the duration of the race giving the Spaniard fourth overall, just two points away from a podium finish. Evans raced well and remained in sixth for the duration of the race and Jacobi held onto eighth until lap 10 when he lost his flow and dropped to 11th at the flag.
MX2 race two saw a tough battle for Rubini. Suffering from a poor start-gate pick resulting from Saturday's qualifying race crash the Frenchman battled hard to push back from 12th on lap one and consistently worked his way up to eighth at the finish. Rubini finished the day in eighth overall, frustratingly just five points away from the fourth place finisher.
---
Tim Gajser 243 Team HRC
It was good to get back to winning ways and taking another holeshot was a bonus too. I really enjoyed the track this weekend and I think that showed in my riding. I was fastest in every session I think and even had the fastest laps in both races, so to come away with the overall was the best way to end this event. Going one-two and extending my lead to over 100 points is more than I could have hoped for so I must thank the team and my girlfriend Špela, who's birthday it was today for their support. We have all worked extremely hard and I couldn't do it without the backing they give me.
---
Mitch Evans 43 Team HRC
Today was my best points tally of the season, so I am very happy with how the weekend went. I got my joint-highest moto finish with a sixth in race two and that was after an eighth in race one, so two results inside the top ten and not too far away from a top five overall. I knew the starts would be important, so that helped, but it felt good to be battling the whole motos and fighting for every position. Now I have a couple of weeks to improve more and I'm feeling confident that this is going to be the start of some really good results.
---
Rubén Fernández 70 Honda 114 Motorsports
It was a good weekend for me. I was feeling strong in Saturday's qualifying race but I made a small mistake and had a slow-speed crash and lost quite a few positions. I managed to push hard and come back to seventh, which was OK.
I didn't have the best starts today, but I was feeling good with my riding. I finished in fifth place in both motos and this gave me fourth overall. My results have been solid recently and this is what we want to see so I'm happy.
---
Stephen Rubini 38TEAM SHIP TO CYCLE HONDA SR MOTOBLOUZ
It's such a shame that I had a crash in the qualifying race. I had good speed and felt strong. It was just a silly crash and unfortunately I broke the clutch lever so this made it tough and I qualified 14th.
In the first race I still managed to get quite a good start and came around in ninth and still raced a good moto. I was strong but my final result didn't show this so well. Then in the second race I started in around 15th place and came back to eighth at the finish which was again okay but I can do much better and I hope to show this at the next race in Indonesia.
---
Gordon Crockard Honda Motor Co. Ltd
Today was a good day showcasing our CRF models to the global audience and to the German GP fans who were there to enjoy the race action.
In the MXGP class it was the home round for our CRF450R rider Henry Jacobi and he delivered strong rides in both races and it was a pleasure to see and hear the fans cheer and support Henry all weekend around the track.
For the most part of both MXGP races we had four CRF450R bikes inside the top 10 with Tim, Rubén, Mitch and Henry all riding fantastically and giving it their all. I was proud to see that. Rubén just missed the podium for third overall, but his confidence will be well-boosted with his great riding, speed and physical condition.
In the MX2 class there was delight from Rubini's performance, scoring solid eighth place results passing up the leaderboard throughout each race. And credit to Petr Polak and his great rides too proving himself and edging towards the top 10 as the season moves along.
It's been a great day and we look forward to the long haul to Indonesia next.
Seewer Celebrates a Race Win & Second Overall at German Grand Prix
Fresh off a Grand Prix win last weekend, Monster Energy Yamaha Factory MXGP's Jeremy Seewer continued his forward momentum at the MXGP of Germany, round 11 of the FIM Motocross World Championship in Teutschenthal. The 27-year-old Swiss rider ended the German Grand Prix with an emphatic race win, which, paired with his third-place from race one, landed him on the second step of the podium – just 2-points shy of the overall victory. Glenn Coldenhoff had an 'off' day, posting 10-8 finishes for ninth overall.
Seewer put the hammer down on the opening laps of race one after emerging from the first turn in seventh position. The Swiss rider made light work of former World Champions Jorge Prado and Romain Febvre to take over third on lap two.
After slotting into the top-three, the '91' then set his sights on Pauls Jonass in second but was unable to make any inroads and eventually settled for third.
Going from strength to strength, Seewer secured his second race win of the season after a dominant performance in the final heat. The Swiss sensation took a mind-blowing holeshot, his first of the season, before stretching out an impressive 7-second lead over the MXGP championship leader and four-times World Champion, Tim Gajser. He then led 18 flawless laps for an emphatic race win – his 13th since turning pro in 2014.
The "Talkessel Circuit" is a rutty hard-pack track that sprawls out over the Teutschental hillside, offering plenty of climbs and drops with many tricky square-edged bumps. It is often described as "hard to pass at," which is what Coldenhoff struggled with in both races today. The Dutchman started and finished 10th in the opening race and slightly improved in race two to finish eighth.
Unfortunately, the team's rookie sensation Maxime Renaux was ruled out of the MXGP of Germany due to injuries sustained after a heavy fall in the Qualifying Race yesterday afternoon. As a result, the Frenchman has been nudged back to fourth in the MXGP Championship Standings, while Seewer has jumped to second, and Coldenhoff remains fifth.
The Monster Energy Yamaha Factory MXGP Team will now have one weekend off before flying out to Samota-Sumbawa, Indonesia, for the 12th round of the MXGP series, which will take place on the weekend of June 26th.
For full results from the MXGP of Germany, click here.
Jeremy Seewer
2nd MXGP of Germany, 45-points
2nd MXGP Championship Standings, 384-points
"In the first moto today, I was a little bit frustrated because I couldn't get Pauls (Jonass). I tried a few times but couldn't quite close the gap. The second race, I knew I needed a good start, and I managed to pull the holeshot, which was my first of the season. And then I managed to put in one of my best rides of the season with good rhythm. I felt amazing on my bike and my fitness is good. Tim (Gajser) was strong all weekend, topping every session except for the second moto, so for me, that feels good, and now we have to keep going."
Glenn Coldenhoff
9th MXGP of Germany, 24-points
5th MXGP Championship Standings, 330-points
"It was a really tough weekend. I didn't find my flow all weekend; I felt the track was pretty sketchy, but no excuses. My starts were also 'off' today and it's pretty hard to fight back. Here it is more like 'follow the leader.' In the second race, I made a pass, but I am still really disappointed. It's not where I should be, but what can I say? It just wasn't my weekend."
Outstanding comeback to GP action by Romain Febvre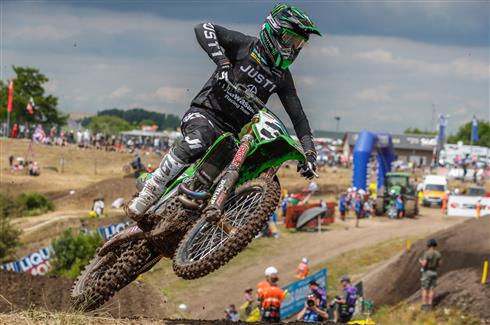 Romain Febvre of Kawasaki Racing Team MXGP made a stunning return to the FIM World MXGP Motocross Championship with fifth overall, just two point from the podium, at Teutschenthal in Germany.
The Frenchman used KX450-SR power to perfection out of the start in race one to launch immediately into third place from gate six and held the position for three laps before surrendering to a tough move from the current world-number-three. Showing no signs of race-rustiness despite more than six months off the bike he remained unruffled and, building a solid rhythm, raced clear of all other chasers until he slackened his pace slightly in the final laps as the strenuous track inevitably made its presence felt but he still maintained fourth to the finish for a remarkable return to GP racing. Initially ninth in race two after being closed down on the approach to the first turn the immaculate Frenchman moved quickly forward to seventh by the completion of the first complete lap. After two solid days of racing in mid-summer weather the track surface had become ever more unforgiving as the ruts became rock-hard and on his return to racing he sensibly avoided unnecessary risks. Nevertheless he was rewarded with fifth overall, just two points shy of the podium, to more than justify the decision to race just two-and-a-half weeks after resuming training and can now look forward optimistically to putting Kawasaki back in their rightful place at the sharp end during the second half of the season.

Romain Febvre: "I'm feeling happy at my performance but I'm really tired this evening. I knew it would be a tough track. I had some good practice but I have only had nine-or-ten hours on the bike during the last two-and-a-half weeks and after six months out that is nothing. My speed is not that bad but I knew my fitness would be tough. On Saturday I already showed good speed and even more today but the opposition have their flow after half-a-season and I have to catch up. I got a really good start in the first moto and it was great to race up there with the front-three but after fifteen-twenty minutes I missed some physical condition. When I decided to come here I never expected to be able to finish fourth but I knew the second moto would be even tougher. I had another good jump but the rear wheel spun over the gate and the two guys either side of me closed me down immediately. I think I was around seventh most of the race. I'm really happy but really tired."

Antti Pyrhönen (KRT team manager): "Romain proved once again today that he is a truly great rider; his experience and base-level is so high that he could achieve this incredible fifth place after just two-and-a-half weeks back on the bike."

Ben Watson maintained eleventh position for fourteen of the eighteen laps in race one before a loss of rhythm cost him two places at the end. A difficult first turn left the Englishman sixteenth on the opening lap of race two; he finished seventeenth to maintain twelfth place in the series standings.

Ben Watson: "I had a good feeling from the first session on Saturday but these are not my favourite conditions to race in; the Qualifying race was hard, slick and dusty but I came through to twelfth from nineteenth in the timed session. The track was much flatter on Sunday morning and got even harder and slippery as the day went on. I just felt physically tired at the end of the first race, as though I had a wall in front of me, and the second race was the same. It's a bit disappointing as the last few weeks have been positive, but the key now is to focus on a good recovery, a little riding at the end of the week and then a good trip to Indonesia. We don't know what to expect there but it will be an exciting challenge."

F&H Kawasaki Racing Team's Jed Beaton emerged seventeenth from the opening lap of the first moto but was able to push for the entire thirty-five minutes to gain three positions on his way to fourteenth. The Australian was quickly fourteenth in race two and also finished in that position after a race-long battle with the runner-up from race one. He is now seventeenth in the series standings despite missing three rounds through injury.
Renaux Ruled Out of German Grand Prix Through Injury
Monster Energy Yamaha Factory MXGP's Maxime Renaux has been ruled out of the MXGP of Germany in Teutschental, round 11 of the FIM Motocross World Championship, because of injuries sustained in a crash during yesterday's MXGP qualifying race.
Renaux, who currently lies second in the MXGP Championship Standings, crashed on the finish line jump, falling from a significant height and landing heavily. The Frenchman rode back to the paddock, but immediately reported to the track medical centre after experiencing significant pain in his back.
Following an initial medical assessment in Teutschental, Renaux was transported to the University Hospital of Halle, where an MRI scan confirmed that he has fractured his T1, T2, T5 and T7 vertebrae.
Renaux will return immediately to Belgium for a further assessment and to formulate a recovery program. An update on his treatment plan and a potential return to action will be posted on Yamaha-Racing.com and Yamaha Racing's social media platforms when available.